Will Black Stainless Steel Finish Off Stainless?
Posted by Matt Hermes on Wednesday, November 4, 2015 at 9:07 AM
By Matt Hermes / November 4, 2015
Comment
When it comes to appliance finishes, the demise of stainless steel is predicted every time materials such as Jenn-Air's Oiled Bronze, GE's Slate, or Whirlpool's White Ice hit the scene. Some of these newcomers have fared better than others, but none has come remotely close to supplanting traditional stainless steel.
So will the new black stainless steel—recently unveiled by KitchenAid, LG, and Samsung—be any different? As the Magic 8 Ball might say, "Outlook not so good." But black stainless steel is an interesting alternative if the rugged industrial look of conventional stainless steel doesn't appeal, or if you're worried about smudges and fingerprints.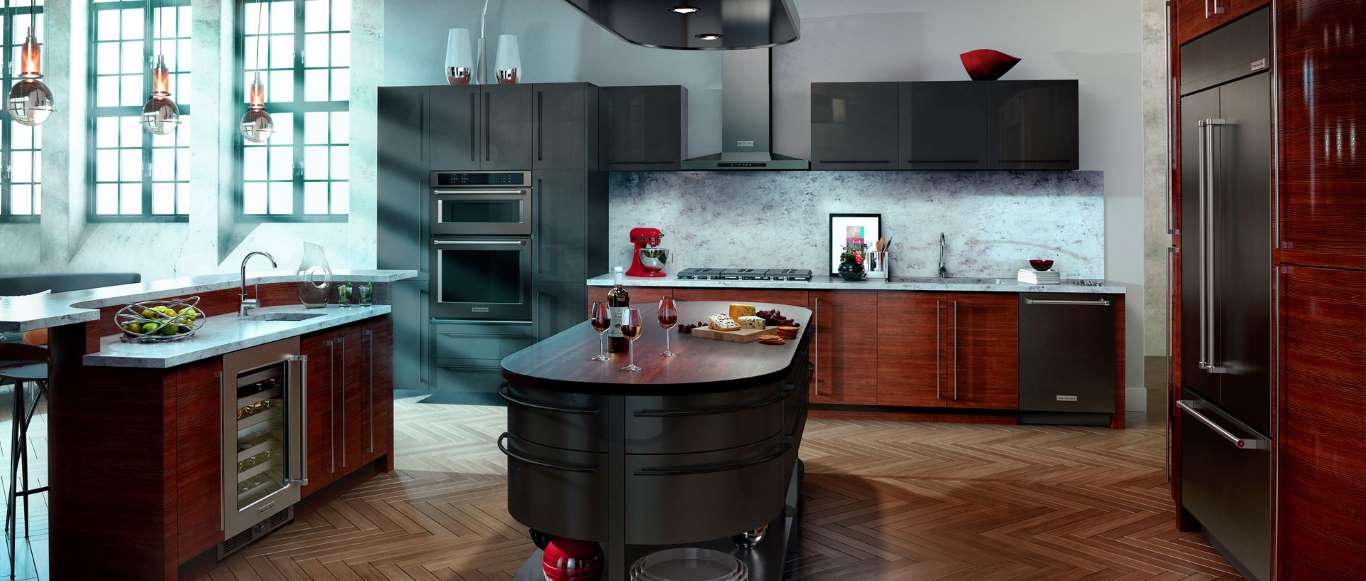 KitchenAid
KitchenAid calls the new material "a softer, warmer alternative to traditional stainless." Judging from the new KitchenAid five-door refrigerator in our lab, black stainless steel is definitely less reflective, with more of a matte look and feel. And it resists fingerprints better than regular stainless. In addition to several freestanding and built-in refrigerators, KitchenAid offers black stainless steel on a selection of single and double wall ovens, dishwashers, and range hoods. A KitchenAid suite is shown above.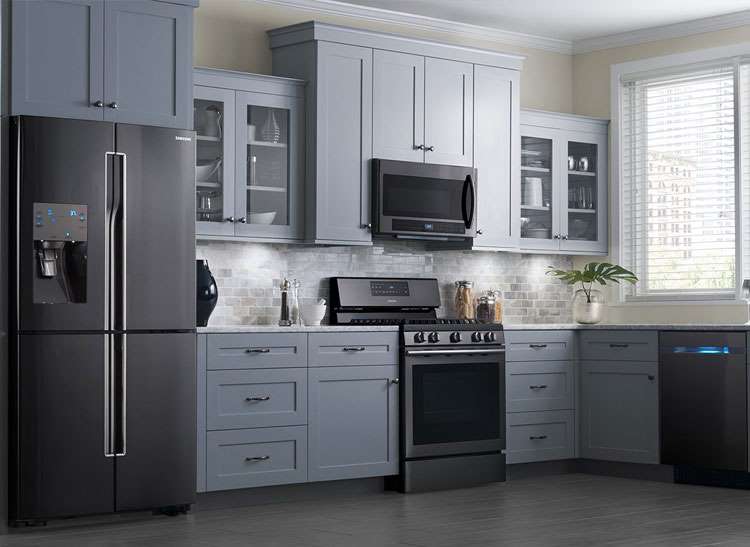 Samsung
Samsung's black stainless steel, which is similar in texture, tone, and smudge resistance, is available on a select line of premium-priced refrigerators, ranges, dishwashers, and microwaves. Samsung tells us that many customers are using it to mix and match materials in the kitchen, for example doing the range and microwave in black and the refrigerator and dishwasher in traditional stainless steel.
LG
As for LG, its black stainless steel is described as "stainless steel coated with a darker hue and topped with a protective coating." The result is a shade lighter than the blacks of Kitchen and Samsung. It's available on a suite of appliances consisting of refrigerators, double-oven ranges, a dishwasher, and a microwave. LG has also introduced a contoured-black-glass finish that's more reflective. It's available on LG's newtrue four-door refrigerator.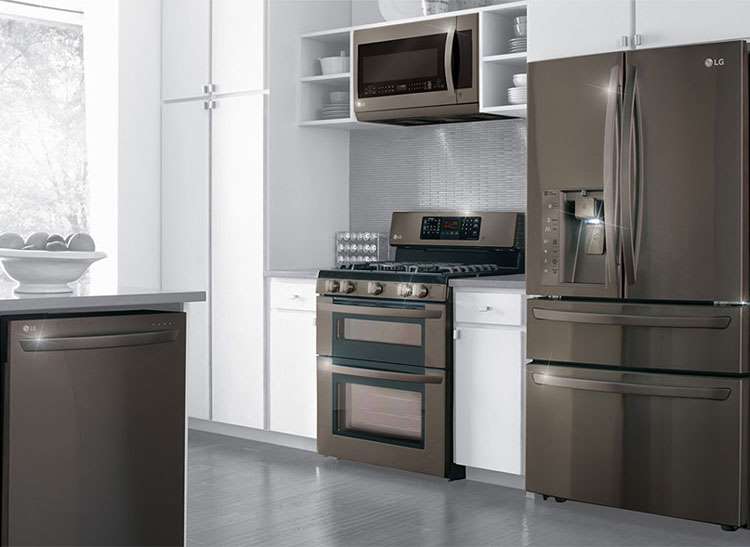 What Kitchen Designers Say
So what does the design community think? "I love the look of black stainless steel and I would definitely spec it for my more modern and sleeker kitchen designs, particularly if the cabinetry is a medium or dark tone," says interior designer Libby Langdon. She also thinks the smudge resistance will be a big selling point.
Adds designer Courtney Cachet: "I've been a fan of European black appliances for a while. The Smeg refrigerator and La Cornue oven in black are two favorites, but they're far more stylized than what's coming out of the U.S. market." She'd like to see some of the brass and copper accents from those high-end brands find their way into the mainstream. Even with such refinements, Cachet thinks black stainless steel will be a niche product.
Time will tell. But it's safe to say that traditional stainless steel won't be fading away anytime soon.
This article was originally posted by Consumer Reports.