Where You Live: What Your ZIP Code Says About You!
Posted by Matt Hermes on Sunday, December 14, 2014 at 12:27 PM
By Matt Hermes / December 14, 2014
Comment
 Where You Live: What Your ZIP Code Says About You!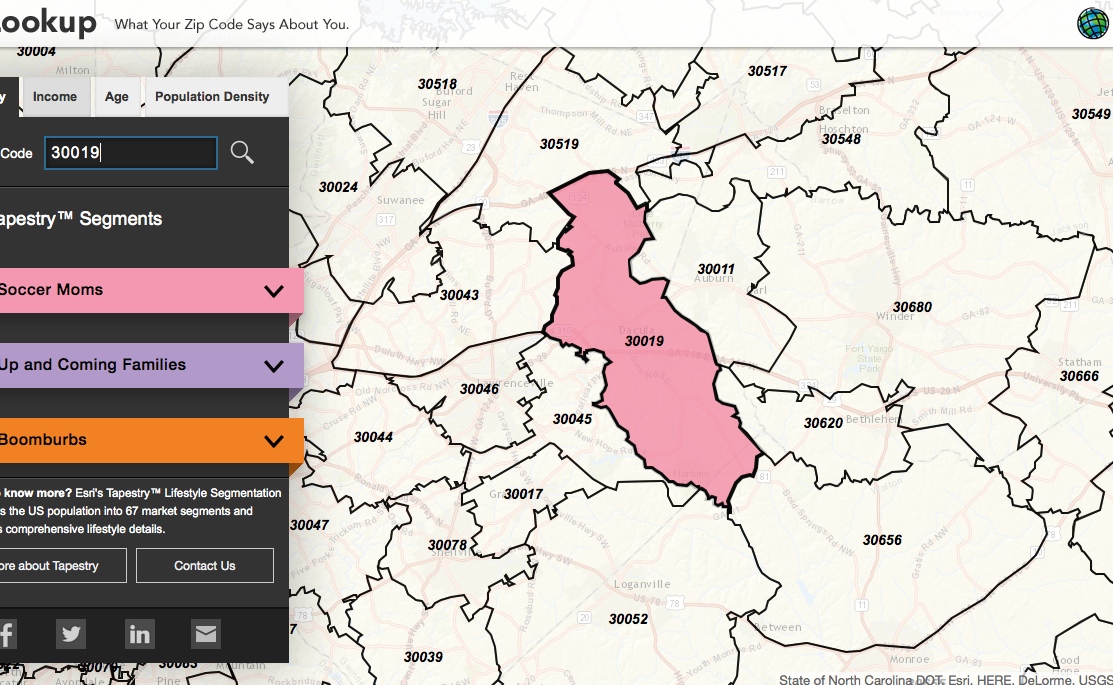 Thinking about building a new home in a different ZIP code from where you currently live?  Thinking of moving to Hamilton Mill subdivision or looking for homes for sale in Hamilton Mill. Check out a new tool by Esri that, if nothing else, is fun to browse as you consider the ZIP code your new home may be built in.  Esri is a geographic information firm who has created a new interactive map which mines socioeconomic and demographic data to create a picture of who lives in each ZIP code.  Esri's "Tapestry Segmentation" database uses 67 neighborhood classifications, complete with cutesy names like "American Dreamers", "Front Porches" and "Top Tier".  The data lets you look into the stereotypical lives of residents in the ZIP code, including their average income, age, and population.
How much truth there is in these broad characterizations is questionable.  Does an entire ZIP code really listen to the same type of radio?  According to my ZIP code, there's supposedly a lot of Soccer Moms residing near our Hamilton Mill Wal Mart, which I have to say is pretty accurate based on the number of minivans with soccer ball stickers on their rear windows!  Some of the other traits may or may not truly represent ME personally and could be too generalized. 
Yet, as I sampled through some other ZIP codes that I am familiar with, I was surprised at how accurate much of the information appeared to be in terms of a general representation.  It was an interesting tool to play around with for a while, and does help me gain a better understanding (if not somewhat subjectively) of the different areas in my city.  Check it out at: