What's my house worth in Dacula and Gwinnett County Georgia? Find out for free at GuaranteedSale.com
Posted by Matt Hermes on Wednesday, October 16, 2013 at 9:38 AM
By Matt Hermes / October 16, 2013
Comment
What's my house worth in Dacula and Gwinnett County Georgia?
I get this question asked of me all the time and my repsonse is pretty simple. Your home is worth what a Buyer thinks it is worth. Unfortunately, neither the Seller nor the Realtor determine a homes value. Ultimately, Buyers do. What we as real estate agents do control is making sure homes are marketed properly in order to get as much exposure as we possibly can in order to attract ready, willing and able Buyers through the front door.
There are a lot of factors that come into play when discussing a homes value and one resource we offer to potential sellers is our free market evaluation tool from my Guaranteed Sale website. This is a simply fantastic tool that allows potentail Sellers to review what their homes value may be as well as permits you to see what other homes right around you have recently sold for.
Want to take a look at your homes value? Click on the photo below and you will go directly to my site and see for yourself. If you are considering selling your home you can also meet with us and find out how we can GUARANTEE the sale of your home in 99 days or less.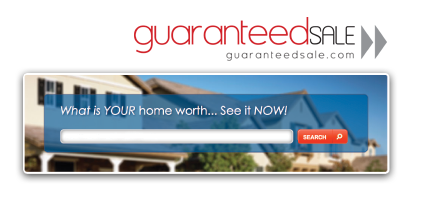 Got questions? Give me a call or email me and let's get together and let me show you how we get homes sold. GUARANTEED.