What Not to Do as a Home Buyer
Posted by Matt Hermes on Tuesday, April 21, 2020 at 9:47 AM
By Matt Hermes / April 21, 2020
Comment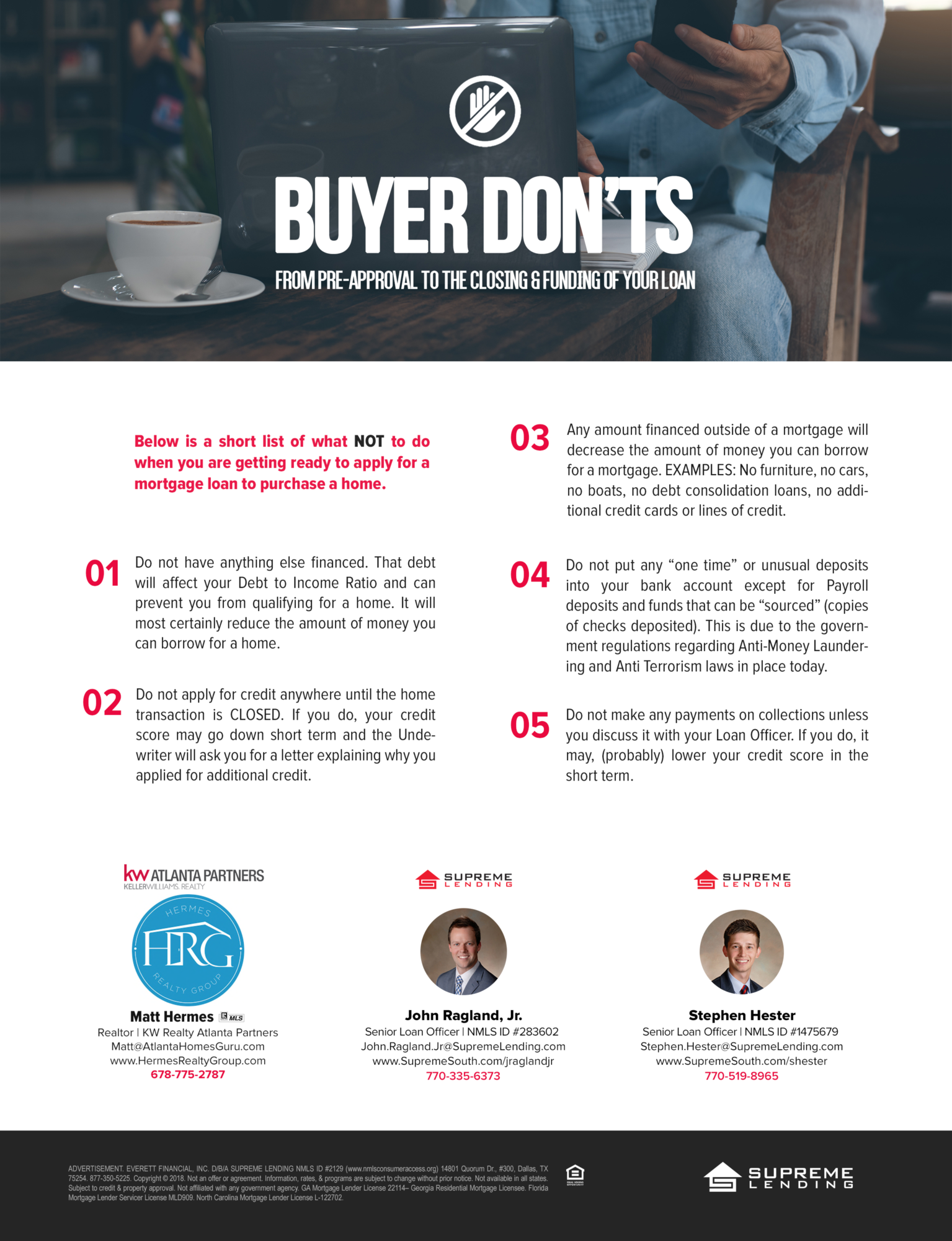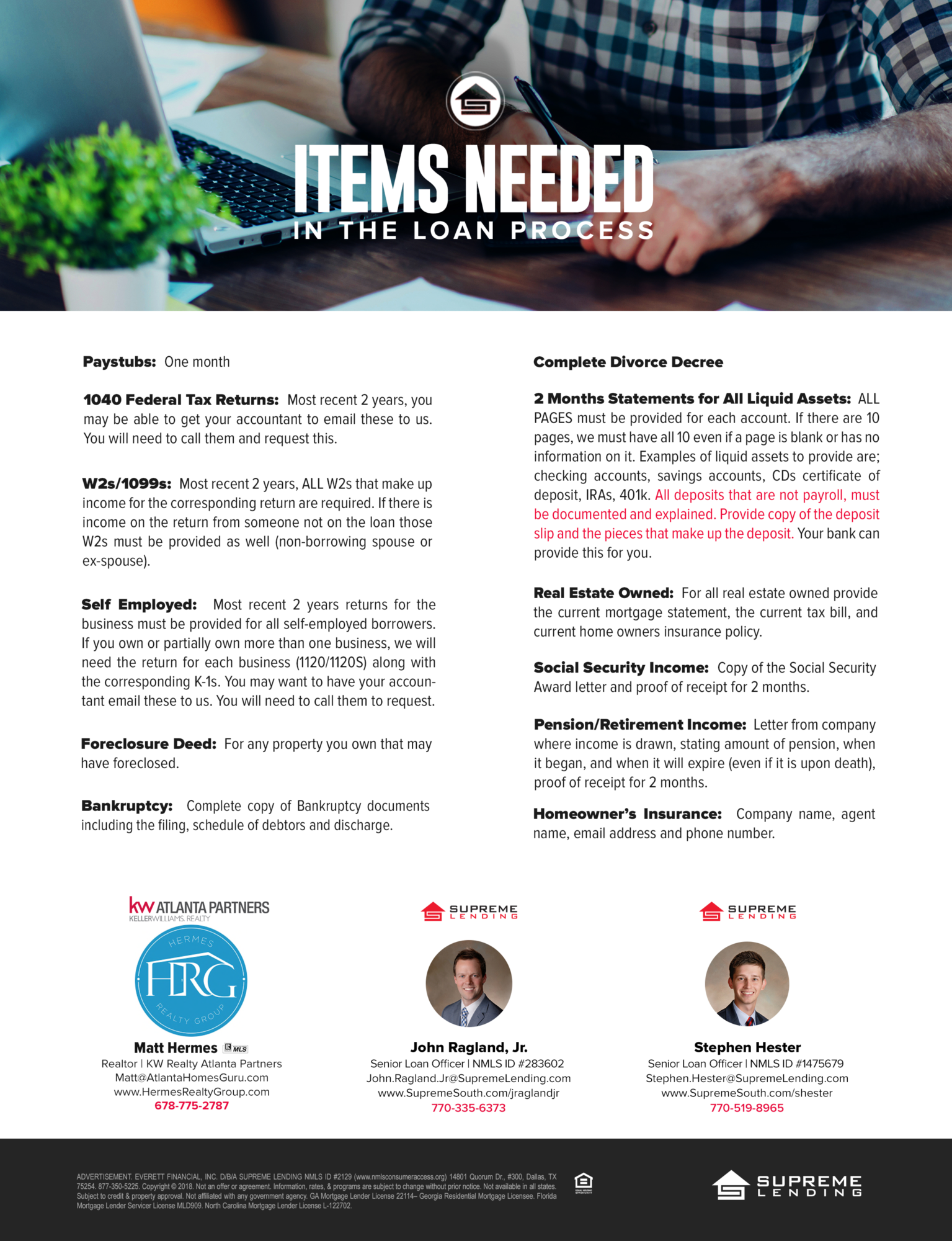 1. Do not have anything else financed. That debt will affect your Debt to Income Ratio and can prevent you from qualifying for a home. It will most certainly reduce the amount of money you can borrow for a home. 
2. Do not apply for credit anywhere until the home transaction is CLOSED. If you do, your credit score may go down short term & the Underwriter will ask you for a letter explaining why you applied for additional credit.
3. Any amount financed outside of a mortgage will decrease the amount of money you can borrow for a mortgage. EXAMPLES: No furniture, no cars, no boats, no debt consolidation loans, no additional credit cards or lines of credit. 
4. Do not put any "one time" or unusual deposits into your bank account except for Payroll deposits and funds that can be 'sourced' (copies of checks deposited). This is due to the government regulations regarding anti-money laundering and anti terrorism laws in place today. 
5. Do not make any payments on collections unless you discuss it with your Loan Officer. If you do, it may, (probably) lower your credit score in the short term.
ITEMS NEEDED IN THE LOAN PROCESS
1040 Federal Tax Returns: Most recent 2 years, you may be able to get your accountant to email these to us. You will need to call them & request this.
W2s/1099s: Most recent 2 years, ALL W2s that make up income for the corresponding return are required. If there is income on the return from someone not on the loan those W2s must be provided as well (non-borrowing spouse or ex-spouse).
Self Employed: Most recent 2 years returns for the business must be provided for all self-employed borrowers. If you own or partially own more than one business, we will need the return for each business (1120/1120s) along with the corresponding K-1s. You may want to have your accountant email these to us. You will need to call them to request.
Foreclosure Deed: For any property you own that may have foreclosed.
Bankruptcy: Complete copy of Bankruptcy documents including the filing, schedule of debtors & discharge.
 Complete Divorce Decree
2 Months Statements for All Liquid Assets: ALL PAGES must be provided for each account. If there are 10 pages, we must have all 10 even if a page is blank or has no information on it. Examples of liquid assets to provide are; checking accounts, savings accounts, CDs certificate of deposit, IRAs, 401k. All deposits that are not payroll, must be documented and explained. Provide copy of the deposit slip and the pieces that make up the deposit. Your bank can provide this for you.
Real Estate Owned: For all real estate owned provide the current mortgage statements, the current tax bill, and current home owners insurance policy. 
Social Security Income: Copy the Social Security Award letter and proof of receipt for 2 months.
Pension/Retirement Income: Letter from company where income is drawn, stating amount of pension, when it began, and when it will expire (even if it is upon death), proof of receipt for 2 months.
Homeowners Insurance: Company name, agent name, email address and phone number.