The Best Gutter Guards For Your Home
Posted by Matt Hermes on Tuesday, October 6, 2020 at 1:38 PM
By Matt Hermes / October 6, 2020
Comment
Gutters are an integral part of our home's roof as they play a role in maintaining both its structural integrity and longevity. Whenever it rains, gutters collect water and help to direct it away from the home. If you want to protect your gutter, gutter guards are an ideal purchase as it'll help keep any debris and leaves from clogging up your rain gutters or downspouts.
If you're new to purchasing a gutter guard and aren't quite sure where to start, we've got you covered. Here, we'll talk about the benefits of gutter guards and what you should look for when purchasing one. In the end, we've rounded up 7 of the best gutter guards with detailed reviews to get you started.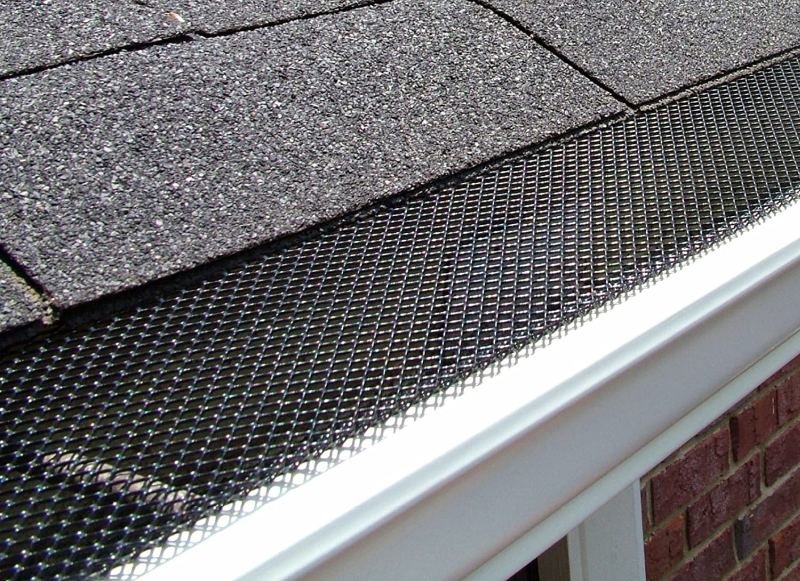 Why Use Gutter Guards?
There are multiple benefits that you can reap from using gutter guards. We'll go through them in a little more detail, but the most important thing to remember is that gutter guards help prolong your gutter's lifespan and minimize the time and effort required to clean it.
Avoid Infestations
Nobody wants to deal with vermin or insects inside the gutters. Without a gutter guard, you can have stagnant water inside the gutters that'll attract rodents, birds, and insects. Purchase a guard, however, and it'll not only help to block these pests from entering your gutters, but it'll also minimize the amount of water that sits within the gutters.
Prevents Rust
If you don't have a gutter guard, you'll most likely have a bunch of leaves inside your gutters. As the leaves absorb moisture, it'll lead to the gutters' rust and corrosion in the long-run. Get a gutter guard, however, and it'll help prevent any leaves or debris from gathering within your gutters.
Prevents Blockages
Unprotected gutters have a higher chance of getting clogged. Why? Gutters are exposed to different kinds of debris, from leaves to sediments. Over time, it'll start to grow in size, and eventually, it'll get stuck and cause blockages within the gutter.
When this happens, your gutter will start to overflow, and the water will damage the house's exterior. Aside from damage, it can also cause unsightly permanent stains on your home.
Prevents Freezing of Water
During the colder months, gutters that aren't protected will have frozen water within them. This will result in blockages and prevent melted ice from going down the drain. While gutter guards can't block all water and frost, it can help significantly reduce it.
What to Look for When Purchasing Your Gutter Guards?
When it comes to selecting your gutter guard, you should aim to choose one that comes with an excellent water and airflow score.
The next thing to consider is the material that the gutter guard's made of. This is highly dependent on the type of debris you'd like to protect your guttering from. Plastic screen style gutter guards are the most common and popular in the market as they act like a barrier, but still have holes that allow rainwater to run through. There are also wire mesh gutter guards that work similarly to plastic screen style gutter guards. For an inexpensive option, there are foam guards. However, while they do the job, they're known to deteriorate quickly and aren't the best long-term option.
Other things to consider include a gutter guard that'll provide your gutter with the proper ventilation, so it doesn't end up emitting foul smells. It should also be easy to install as you don't want to have to hire a professional. Ideally, the gutter guards should come with fasteners so you won't have to whip out the power tools.
Top 7 Best Gutter Guards
This stainless steel gutter guard is made with heavy-duty material to withstand all sorts of weather elements. It'll also never rust and has micro-mesh blocks to prevent pests, leaves, and any other debris from entering your gutter.
Upon purchase, you'll receive everything you need for installation from corrosion-resistant screws to the magnetic hex head driver. It's also not too difficult to install and comes with a 25-year warranty if you run into any issues. Those who have purchased this gutter guard mentioned that the construction quality is impressive, and the sections are rigid.
Pros:
Made with heavy-duty material
Will never rust
Comes with micro-mesh blocks
Has a 25-year warranty
Cons:
The installation process can be time-consuming
This gutter guard comes in a wide range of colors and sizes to suit your needs. It's able to block all types of debris and will ensure that your gutter is clog-free. In terms of installation, it's easy to install and comes with stainless steel installation fasteners for your convenience.
Material wise it's made from premium domestic aluminum and comes with a unique three-point design to prevent water overflow and any potential foundation damage. Individuals that have purchased this product love it and mentioned that they've now got no more leaves in their drain pipe or gutters. Installation was also easy as the fasteners snap right into the gutter.
Pros:
Comes with a wide range of colors and sizes
Blocks debris
Made from premium material and comes with a three-point design
Easy to install
If you're looking for a durable gutter guard that'll help keep out most debris, this is a perfect purchase. The gutter guard is compatible with a range of gutters and is made of powder-coated steel with a metal mesh pattern. All you need to do for installation is to lock the gutter guard to the front lip of the gutter, and you're good to go.
You'll get a 10-year limited warranty with your purchase, and this particular gutter guard can withstand all sorts of weather conditions, from heavy rain to storms and snow. Customers said that this is a fantastic inexpensive product if you don't have a whole lot of money to spend. It's also simple to install and works perfectly.
Pros:
Made of durable material
Comes with a metal mesh pattern
Easy installation
Suited for all weather conditions
Cons:
Some mentioned that the holes are a little big
Another great gutter guard, this particular model comes in a white color and is made with high-quality and durable PVC. Its mesh design helps it catch fine debris while the snap-in style makes this gutter guard incredibly easy to install. In terms of weather durability, this gutter guard is more suited to mild weather, such as moderate rainfall and light snowfall.
Those who have purchased it mentioned that installation was easy, and it helps keep small debris such as seeds out. They've also stated that it seems to be quite durable and does the job for the price that you're paying.
Pros:
Made with lightweight PVC
Catches fine debris
Easy installation
Suited for mild weather
Cons:
Not as sturdy as some of the other gutter guards out there
This highly-rated gutter guard seals out leaves and debris while still allowing water to flow through. The installation process is simple, and the inserts will fit inside the gutters for maximum protection. You'll receive a 3-year warranty with your purchase, and it's durable and easy to use.
The foam material means that the gutter guard will fit and protect half-round gutters. It'll also hold its shape without impeding water flow through your gutter. Due to its unique construction, this gutter guard will also help provide a layered defense against insects and animals, and will not crumble or dent. Those that have purchased it stated that it's easy to install, prevents leaves from clogging up your gutters and prevents less water during the winter to freeze.
Pros:
Easy installation
Comes with a 3-year warranty
Will not dent, crumble or change its shape
Provides a layer of defense against insects and animals
Cons:
Doesn't last as long and will disintegrate from being exposed to the elements
This particular gutter guard attaches to your gutter easily and allows water to flow straight through. It'll keep out all debris, and you'll no longer have to worry about cleaning gutters in your home. If you need to modify the guards, your purchase also comes with detailed instructions and hardware to help you with the process.
Those who have purchased it mentioned that you get a great 15-year warranty, and it's a quick and easy solution to clogged gutters. They've also stated that the gutter guard is made with durable material, and you'll only need to sweep off pine needles and leaves occasionally.
Pros:
Easy installation
Comes with a 15-year warranty
Comes with detailed instructions and hardware if you need to modify the guards
Made with durable material
Cons:
Doesn't handle pollen well
Finally, you've got this gutter brush that comes in various sizes. It comes with cylinder-shaped bristles to fill your gutters and will block leaves and debris while allowing water to flow down freely. To install, all you need to do is slide the brush sections into your rain gutters, and you're good to go, no tools, fasteners, or cutting required.
You can use it for all sorts of weather conditions from summer to winter, and it's made with polypropylene. Those that have purchased it have had some good experiences with the product. They mentioned that it catches most leaf and tree litter, and the installation process is probably one of the easiest ones out there.
Pros:
Straightforward installation
Comes in various sizes
Suitable to use for all sorts of weather conditions
Catches most debris
Cons:
You do need to remove them and clean them fairly frequently
Bottom Line
Choosing the right gutter guard doesn't have to be a complicated process, and we hope that the guide above has helped you make your decision. It's vital that you figure out what type of gutter guard would work with the gutter you have, and sometimes it pays to spend a little more on a product that's durable and made of high-quality material.
The right purchase will not only help extend the lifespan of your gutters, it'll also keep debris out, and is easy to install. Ideally, you shouldn't purchase a gutter guard that'll require you to adjust the roof of your house as it may void the warranty. With a proper gutter guard, you're on your way to a rust-free, clog-free, and pest-free gutter.
Original article courtesy of homeedit.com