Mill Creek Hawks in playoff opener vs. Northview
Posted by Matt Hermes on Friday, November 13, 2015 at 10:20 AM
By Matt Hermes / November 13, 2015
Comment
Mill Creek Hawks in playoff opener vs. Northview, November 13th at Markham Field. On paper, things couldn't be better for Mill Creek's football program right now.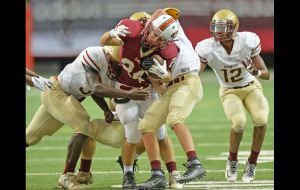 The No. 5 state-ranked Hawks (10-0) are fresh off last Friday's 20-17 overtime win over No. 9 Peachtree Ridge before an electric crowd, which not only secured the program's first Region 7-AAAAAA championship and first undefeated regular season.
But the success also comes as a warning to head coach Shannon Jarvis as his team welcomes Northview (6-4) to Markham Field for a first-round game in the Class AAAAAA state playoffs tonight at 7:30.
Though Mill Creek has been to the state playoffs in four previous season, Jarvis admits the current set of circumstances gives this appearance a different feel for him and the Hawks.
"I'll tell you where it feels different and how the kids carry themselves different was what happened last Friday night," Jarvis said. "The crowd was amazing. The support they gave us energized us and has us excited about getting back out there and being at home (for the opening round)."
Of course, the pitfall Jarvis and his staff worries about is getting caught up so much in the excitement of last Friday's win that they have trouble putting it behind them and focusing on tonight's game with Northview.
However, Jarvis said that all the signs in practice this week indicate that the Hawks are determined not to fall into that trap.
"That was my concern over the weekend," Jarvis said. "It was so emotional, but we've got to put it behind us. … You can see teams (in Mill Creek's situation) go one of two ways. Either they take it for granted, or they fill with confidence and focus and run with it.
"Honestly, I won't know for sure (which way it will go) until Friday, but I've been pleasantly surprised in practice so far. … Monday and Tuesday in practice, we found out pretty quickly that the kids are ready to go back to work."
Despite a defense that has allowed just 61 points all season, including five shutouts, and features impact players such as Aaron Anderson (84 combined tackles, 5 sacks, 2 INTs), Micah Bull (82 tackles, 2 sacks), Sidney Otiwu (65 tackles, 4 sacks, 2 INTs) and Tyler Vernon (38 tackles, 12 sacks), the Hawks will have some work to do against Northview.
The Titans have put up 40 or more points in each of their last three games, primarily on the strength of running back Emeka Nwanze, who has posted 1,472 yards and 14 touchdowns this season, and dynamic athlete Jair Anderson, who has piled up 845 all-purpose yards and 13 total TDs.
Anderson has been particularly dangerous in special teams, with a 30.7-yard average in kickoff return and a 78-yard punt return to his credit.
And it is that part of the game, as well as other lesser-focused on areas of the game, that Jarvis believes the Hawks must be on guard against tonight.
"Their running back (Nwanze) and return guy in special teams (Anderson) highlight their team speed," Jarvis said of Northview. "If you make a mistake, they can get big yardage on you. … People talk about our defense, but special teams have been just impressive for us this year. I told (the players) this week that they've got to be at their best this week in special teams."