Inaccurate Zillow estimate creating issues with potential home sales?
Posted by Matt Hermes on Sunday, October 11, 2015 at 3:01 PM
By Matt Hermes / October 11, 2015
Comment
Inaccurate Zillow estimates creating issues with potential home sales? Absolutely! Many home owners in and around the Hamilton Mill subdivisionwill often take a look at Zillow's "Zestimate" prior to calling us to talk about selling their homes. While doing research and getting a good ballpark idea of what your homes value is, it is vitally important to get ACCURATE information. Zillow, however is not the place to get this information in my opinion and let me tell you why. 

A recent article in the LA Times, titled "Inaccurate Zillow 'Zestimates' a source of conflict over home prices" pointed out the huge disparity in actual sales price versus Zillow's Zestimate that was provided. For a number of years I have challenged Zillow on their estimated values and even point to my own home as a prime example of what my home would sell for versus what Zillow says it may be worth. Currently my Zestimate is almost $100,000 more than what I can reasonably expect to sell my house for in the Hamilton Mill subdivision in Dacula, Ga.. What is even more interesting to me is how quickly Zillow has dropped the value of my home over the past six months. At one time, my Zestimate was over $140,000 higher than what I could have sold our house for in the market. If I could have received a offer at this price level, I would have sold in a heartbeat!!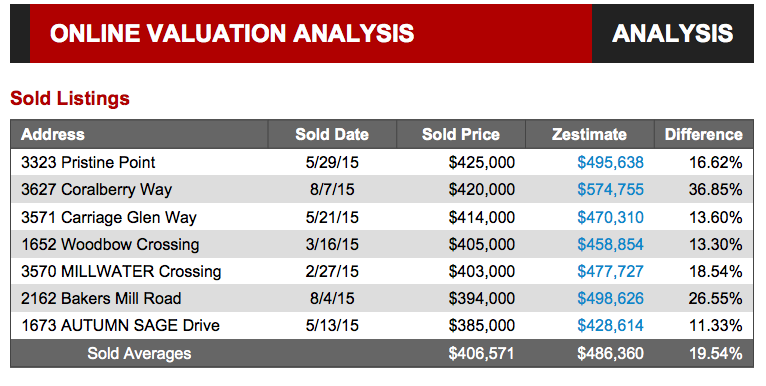 "Zillow is the most popular online real estate information site, with 73 million unique visitors in December. Along with active listings of properties for sale, it also provides information on houses that are not on the market. You can enter the address or general location in a database of millions of homes and probably pull up key information — square footage, lot size, number of bedrooms and baths, photos, taxes — plus a Zestimate" according to the LA Times article.

I decided to do my own comparison of actual home sales vs. Zestimate price estimates and the results were staggering. In a study of seven homes that recently sold in the Hamilton Mill Subdivision, the average Zillow "Zestimate" was over 19% higher than the actual sales price of the homes reviewed in the Competitive Market Analysis (CMA). The average sales price of the seven homes reviewed was $406,571 and the Zestimated value of these homes was $486,360!!! This is almost a $80,000 difference in actual sales price versus the Zestimate provided by Zillow. No wonder homeowners who plan on selling are shocked when we meet with them to discuss value and my professional opinion based on true facts come in well below the Zestimated value they got online.

The LA Times article also made note of a question asked of Zillow's CEO Spencer Rascoff regarding the accuracy of the Zestimates his website provides consumers. He answered that they're "a good starting point" but that nationwide Zestimates have a "median error rate" of about 8%. On a $500,000 house, that would be a $40,000 disparity and potentially a lot of money on either side of the table and could create problems. 

If you are considering selling your house in the near future, please do yourself a favor and call a real estate professional like myself to get a true and accurate estimate of your homes value or hire a certified residential appraiser to provide a true appraised value of your home. Zillow is a good starting point but in no way is it something to base your decision on as to whether or not you should consider selling your home. 

For more information on buying, selling or investing in real estate in the Atlanta market, please give Matt Hermes, with the Hermes Realty Group of Keller Williams Realty a call to sit down and talk about your options. Our initial consultation is absolutely free and there is no obligation to use our services. We are here to help you navigate the process of selling your house. You can also check us out online at: www.AtlantaHomesGuru.com.