Everything You Need to Know About Moving Safely During the Coronavirus Pandemic—If You Must
Posted by Matt Hermes on Tuesday, April 21, 2020 at 10:19 AM
By Matt Hermes / April 21, 2020
Comment
Packing up and moving has always been remarkably stressful in and of itself. Moving during the coronavirus pandemic, when everyone across the nation is supposed to be staying put to lower their risk of illness? Well, that's a tricky undertaking, to say the least.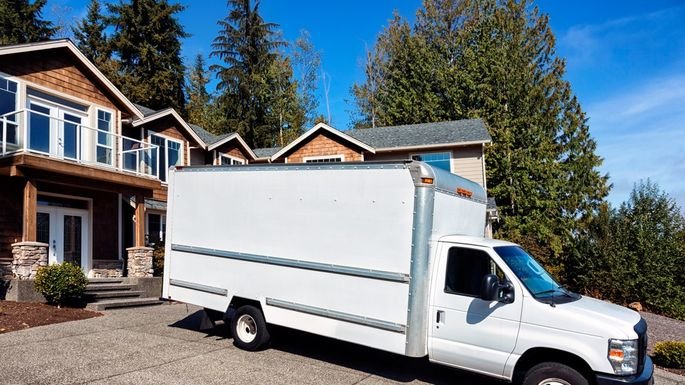 First, a note of caution: If you don't have to vacate your current home, consider staying right where you are. Aim to reschedule your move for when the spread of the coronavirus outbreak slows and the government lifts restrictions on movement.
"During this crisis, many customers are postponing their moves and some are just completely canceling them," says Lior Rachmany, CEO and founder of New York's Dumbo Moving and Storage. "However, we're still receiving a great deal of new customers that need to move at this time."
So if you are one of those people who absolutely have to move right now—maybe the home you own or rent was recently sold, you have to relocate for a new job, or you just closed on a new home—then here's some info on how to move safely during this pandemic.
Checklist: Before you move
Make sure moving is allowed in your area or building
Not sure if you can move? According to the American Moving & Storage Association, moving has been deemed an "essential service" by the federal government.
Still, while moving is legal in the big picture, it might not be allowed for your specific circumstances. For instance, some apartment buildings in New York City are not allowing residents to move during the current shelter-in-place order. So check with your local and state governments (and your HOA or condo board, if applicable) before scheduling any move.
Choose car travel over air travel
"In order to be safe and to protect others from possible exposure to the coronavirus, drive instead of fly for your long-distance move," advises Ali Wenzke, author of "The Art of Happy Moving."
It may take longer for you to arrive at your new home, but driving is better for the safety of everyone.
Carefully research your movers
Hiring movers should always be a process that involves careful research before signing a contract. Now that missive is even more important. So is using professional movers rather than a cheaper man-with-a-van option, which could involve unknown rental equipment and multiple trips to get everything moved.
These days, many companies have transitioned to contactless moving, which means customers leave their homes while the crew comes in to pack up and load the truck. Many movers are also using video chat technology to see customers' homes and offer quotes.
At Bellhops, a company that provides moving services in 30 states, "the customer provides instructions and takes a video and sends it to us," says Luke Marklin, the company's CEO. "We do a FaceTime walk-through when we arrive and a final FaceTime walk-through to show them the truck and the house, then repeat that process for the unload."
Make sure to ask all prospective movers about their COVID-19 policies and practices, and make sure to ask the following:
Do you provide virtual or digital estimates?
Are the trucks and movers equipped with hand sanitizer, masks, and gloves?
Will the truck transporting your furniture and boxes be thoroughly cleaned and sanitized before your belongings are packed inside?
Will all equipment—such as hand trucks and sound blankets—be cleaned before your move?
How often are high-touch surfaces in the trucks sanitized?
What is your cancellation/rescheduling policy?
How are the movers ensuring employees aren't sick? This could include taking their temperature on the day of the move and asking if anyone in their household is ill or experiencing symptoms.
These best practices don't just apply to the movers but to you as well.
"We advise that anyone who is planning to move right now to get gloves and masks to wear during the move," says Rachmany.
Decluttering? Call ahead if you plan to donate
Moving is a natural time to sort through your closets and set aside items to donate. This unusual time period doesn't have to be an exception to this.
But if you plan to drop off old housewares, clothing, and other items at your neighborhood Goodwill or Salvation Army, call ahead—not all stores are open or accepting donations right now, and you may need to take additional steps to sanitize donated items.
Plan ahead if you need to set up new internet or cable service
If you need a technician to come to your place to set up internet or cable service with a new provider, schedule that installation ASAP so you can get connected as quickly as possible and avoid delays.
Appointments are harder to come by these days, says Jenna Weinerman, vice president of marketing for Updater, a moving app. "You can't bank on getting an installation appointment as easily as you have in the past."
Use new cardboard boxes you pack yourself
"In normal times, I recommend using neighborhood sites like Nextdoor or Craigslist to get free moving supplies," says Ali Wenzke, author of "The Art of Happy Moving." However, during the coronavirus pandemic, it's safer to buy brand-new moving supplies.
Don't use plastic bins, either—the coronavirus can survive up to a day on cardboard, but three days on plastic.
You should also pack your own china, books, and clothing rather than hiring movers to do it. The fewer items the movers touch during your move, the safer you will be from exposure to the coronavirus.
Stock up on cleaning supplies for you and your movers
Don't pack up your cleaning supplies quite yet. Even though your movers should come equipped with their own supplies, you can help by providing plenty of opportunities for the crew to wash their hands before, during, and after the move—and to wash your own hands before and after making contact with any surfaces.
"At a minimum, you want adequate supplies of antibacterial soap, hand sanitizer, and disinfectant wipes on hand," says Matt Woodley, founder of MoverFocus.com. "You will need to disinfect all common areas before and after your movers arrive, too."
—————
Checklist: On moving day
Don't involve more people than necessary
Many moving companies are reducing crew sizes to comply with guidelines to avoid gatherings of 10 or more people. Homeowners and renters should also try to reduce the number of cooks in the kitchen.
"Designate one person to manage and oversee the entire move to ensure best social distancing practices are observed," Woodley says.
Time your move carefully
If possible, plan your move so that the crew drops off your belongings first, then wait at least 72 hours to move yourself or your family into your new place—by then, the virus is less likely to remain on any surfaces.
If you have to move at the same time as your items, Weinerman suggests packing a designated "open first" box that you drop off before the rest of your items. Fill the box with essentials like disinfectant spray, paper towels, snacks, soap, toiletries, bed linens, phone chargers, and a change of clothes.
"Place the rest of your boxes away from your 'open first' box," she says. "Cover it in colorful tape or use colored markers to make sure it doesn't get swallowed up in a sea of brown boxes."
To be safe, disinfect the box and the items inside when you open it.
Disinfect all points of contact
As you come in and out of your new and old places, you'll need to frequently disinfect doorknobs and cabinet pulls, along with wearing a mask and gloves. Keep windows open to promote airflow and circulation.
If you're moving in or out of a multiunit building, take extra care in common areas like the lobby or mailroom where your neighbors pass through. Don't forget to sanitize any surfaces you touch, including elevator buttons.
"It's really helpful to reserve a dedicated elevator," Marklin says. "One of the worst situations is to be crammed together in a crowded elevator." He also suggests scheduling your move early in the day to avoid running into neighbors.
—————
Checklist: After the move
Wipe down your moving boxes and furniture
Even if your movers take every precaution to keep you and your belongings safe, the coronavirus can be spread by asymptomatic carriers. So you will need to thoroughly clean and disinfect everything after the movers leave.
"Even things that are wrapped in moving blankets, like tables or couches, should be completely disinfected before using them again," says Rachmany.
To play it safe, also give your boxes a good cleaning once they're placed in the appropriate rooms, and make sure to thoroughly wash your hands after handling any items the movers touched.
Canceling or changing your move if you're sick
Feeling under the weather? Don't think twice about canceling or postponing your move; it's not worth putting others at risk.
In most cases, your agreement with a moving company is nonbinding, Weinerman says, which means you can change your plans without penalty.
"However, if your moving company collected a deposit prior to your move, it may be nonrefundable," she says. "Contact your moving company about your deposit. Many reputable moving companies will be flexible or make an exception considering the pandemic."
Companies like Bellhops have waived cancellation and rescheduling fees for anyone who needs to change plans due to illness.
"This is a pandemic, so all of the previous rules need to be thrown out the window," Marklin says. "Everything needs to be viewed with heightened care and concern."
Article courtesy of realtor.com