Atlanta Falcons to host Friday Night Lights at Buford High School
Posted by Matt Hermes on Monday, June 22, 2015 at 2:16 PM
By Matt Hermes / June 22, 2015
Comment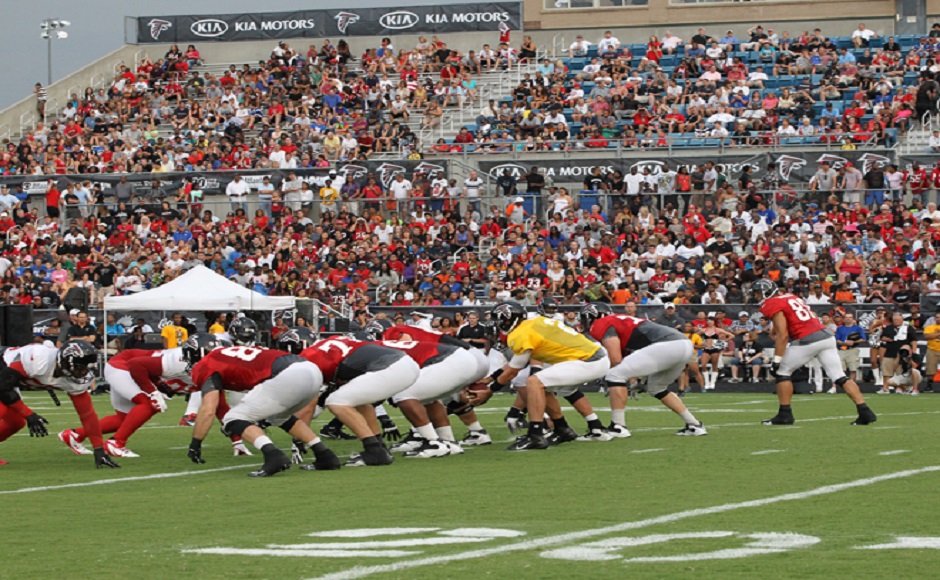 For the seventh time in eight years, the Atlanta Falcons will host their Friday Night Lights preseason scrimmage at a Gwinnett County high school.
Buford was announced Friday as this year's site of the free scrimmage, its second straight year at a Gwinnett location. Archer hosted last year after Gainesville, the only non-Gwinnett site in the showcase's history, was selected in 2013.
Mill Creek was home to the inaugural Friday Night Lights in 2008, followed by Brookwood, North Gwinnett, Norcross and Peachtree Ridge.
This year's festivities are Friday, Aug. 7, beginning at 6 p.m. The grassroots event, free to the public as always, is highlighted by a team scrimmage, but also typically includes a fan fest with interactive inflatable games, sponsor activation, a post-event autograph session and a fireworks show.
"I think the timing also makes it pretty special for us, with the excitement of a new coaching staff (under new head coach Dan Quinn) taking over," Buford athletic director Dexter Wood said. "It's kind of the opening event for the public and it will be at Buford High School stadium. It's pretty neat."
Buford's stadium holds roughly 6,500 fans (4,500 on the home side), so it isn't quite as large as some of the previous hosts. But the extra space surrounding the field and other amenities made the venue desirable.
"What will be a challenge for Buford vs. some others is our seating capacity is not quite what the others have, but we had a few other things pleased with," Wood said. "We're excited they chose us. … We've got plenty of parking I think. Inside the fence on the track level there is a lot of area for VIPs and that's obviously important. Our bleachers may not have the seating capacity of the past, but there's room for standing room only people and obviously this will be a standing room only kind of event.
"Plus I think they love the location. The players might treat it like their high school days, dress in their own locker room (at the Flowery Branch headquarters) and take a bus over to the stadium."